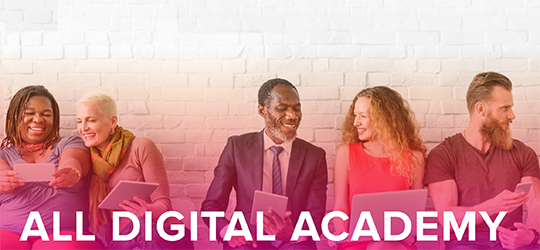 Welcome to ALL DIGITAL's training hub, where we provide a collection of free online courses and open-access resources.
At ALL DIGITAL, our primary mission is to advance the digital transition by enhancing the skills of adult educators and trainers. This website is dedicated to supporting this mission with a compilation of enriching training content from various European projects – ADA, DigCompHub, IBox and GenAIEdu.
What kind of training content will you find here?
Massive Open Online Courses (MOOCs)
Enjoy our free training offer for adult educators and trainers on a variety topics from emerging technologies to digital competences
Community of Practice (COP)
Join our hub for digital competence practitioners and stakeholders to connect and exchange practices
Open Educational Resources (OERs)
Take a look at our collection of teaching and learning materials that are publicly available for free use